Our Doctors, Dental Implants, Cosmetics Dentist, NYC
Upper East Dental Innovations is very pleased to provide clients with a full range of cosmetic, restorative, as well as family and general dental services. Dr. Sharde Harvey, DDS, leads our team to assure that you receive the most advanced, evidence based, caring and aesthetic oral healthcare possible.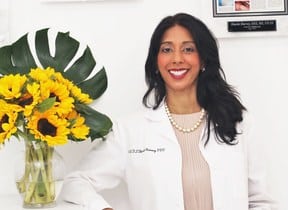 DR. SHARDE HARVEY, DDS is a skilled New York City General Dentist with extensive training in full mouth cosmetic rehabilitation.
Dr. Harvey is currently in the Department of Otolaryngology Head and Neck Surgery, Lenox Hill Hospital and is a clinical instructor on faculty in the Department of Cariology and Comprehensive Care at New York University College of Dentistry.
She is a graduate of New York University College of Dentistry, and spent her last year at NYU in the Honors Esthetics
program doing full mouth veneers, similar to those seen on television programs such as Extreme Makeover. After dental school, she attended a rigorous one year residency program at Long Island College Hospital. After residency, Dr. Harvey finished a two-year post-graduate program in implant surgery and prosthetics at NYU. She is also certified in Invisalign® as well as Botox administration, useful in treatment of TMJ (Temporomandibular Joint Disorder) and headaches.
She has been seen on ABC-TV Eyewitness News in a special program on technology and cavity detection using lasers. Dr. Harvey is proud of her volunteer work helping the Brooklyn community, which was broadcast on NY1. For more details go to our In The News section.
Professional Memberships:
The American Dental Association
The New York State Dental Association
The New York County Dental Association
The International Congress of Oral Implantologists
Holistic Dental Association
American Academy of Dental Sleep Medicine 
 Awards and Publications:
Certificate of Achievement in Aesthetic Dentistry
Certified in Botox for Treatment of TMJ and Headaches 
Languages Spoken:
In her spare time, Dr. Harvey practices Bikram Yoga and enjoys oil painting.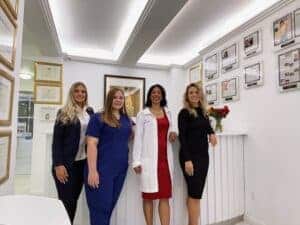 We at Upper East Dental Innovations devote the utmost care and consideration to everyone who walks through our doors.
If you have any questions contact our helpful general staff and friendly hygienists, as well as our highly qualified dentists.
We strive to make your visit a pleasant one.
Accommodating your needs is our priority.
Telephones are answered promptly by our own team:
After hours and priority emergency care
Early morning, late evenings, and Saturday appointments in the heart of Midtown Manhattan
Payment plans that make completing treatment easy and affordable. 
Our professional team is ready to help with all of your dental needs.