Dental Bonding, Veneers and Laminates

The dentists from New York-based Upper East Dental Innovations are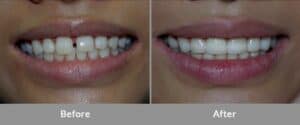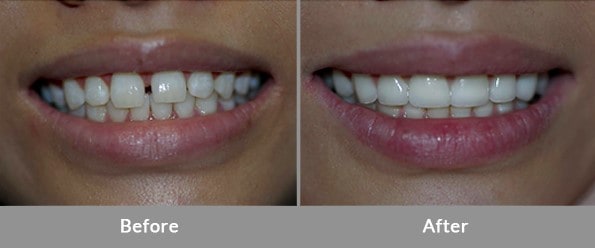 Before and After Dental Veneers
skilled artisans who can help brighten your smile by adding dental veneers.
Q. What is a dental veneer?
A. A veneer is a thin shell that is made out of porcelain or ceramic. The shade of the veneer, along with its shape and size will be made to match your surrounding teeth so that it blends in perfectly.
Q. How is a dental veneer used?
A.  The dentists at Upper East Dental Innovations can accomplish a variety of things using dental veneers. By placing them on top of the teeth, we can close gaps, make teeth even in length, cover dark stains and create a uniform looking smile. In this way, veneers can create a smile that rivals the most famous Hollywood stars. In fact, many of them have had this procedure to create the smile you see today.
We also use dental veneers for restorations. When teeth become cracked, chipped or broken, a veneer can be used to restore the tooth to its full functionality. As long as the tooth structure is intact, it is an excellent way to restore the appearance of a tooth while making it possible to eat and speak without feeling any discomfort.
Q. What are the benefits of dental veneers?
A. Patients throughout the New York, NY area love how veneers make their teeth look. This procedure is an excellent solution, because veneers can be used to transform your smile into one that looks perfect and beautiful. It does so while still using your natural teeth, so there is no need for surgery. Since the veneers are made to match your other teeth, they will look natural, and no one will be able to tell that you had any cosmetic dentistry work completed. Another benefit is that they are made out of a stain resistant material. This means that your teeth will stay whiter and brighter, even if your favorite beverage is a hot cup of coffee.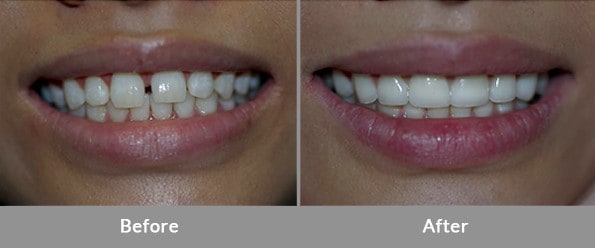 Before and After Dental Veneers